Lessons from getting my ass kicked at Shaolin kung fu
Be careful who you listen to.
I went to a Shaolin kung fu class taught by a 35th generation monk in Vienna.
In 15 min, I got my ass kicked & it was over.
It took me 45 min to get re-oriented into reality as my head was spinning.
The master said to me "Most people don't make it through 10 min in their first class.
If you can get through 2 more classes, you're going to be good."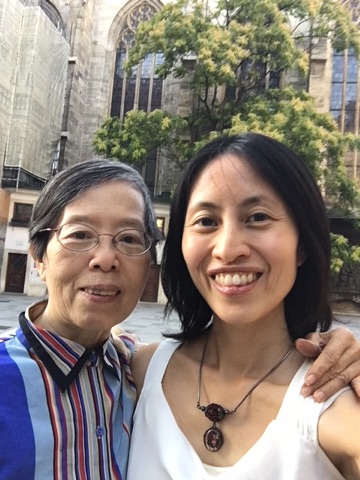 My mom said to me, "You should just learn Tai-chi."
 Be careful who you listen to.
If you want to get better at martial arts, listen to the master, not your mom.
If you want to get better at growing your practice, listen to someone who has experience helping other holistic health practitioners growing their practices. 
If you want to be a better entrepreneur, listen to someone who has a track record of being a successful entrepreneur.
Don't listen to someone who doesn't have experience being an entrepreneur.
Even if it's someone you love, who has your best interests in mind, someone who is your spouse or significant other, or good friend….
I sometimes hear "I need to talk to my spouse."
I find women tend to say this more than men.
As a woman, you are powerful to make your own decision.
Check in with your own intuition.
If it's a no, just tell whoever it is no.
If it's a yes, but you need to talk to your spouse, then be committed to ask for support from your spouse or significant other, even if they don't understand or are against it.
 Be careful who you listen to.
Who you choose to listen to can determine your success or struggle, possibility or non-possibility.
What is your business lacking? 

Do you have systems in place that work to bring in new patients consistently, or to help you uplevel to reach more people at once?
Book a FREE chat to see how we can help you grow your practice faster through time-tested introverted visionary 6 & 7-figure practice growth systems and guidance on your unique situation.
Chen Yen, 6 & 7-Figure Practice Makeover Mentor
There's a reason why people like the recent President of American Association for Naturopathic Physicians (AANP), Board Member of American Society of Acupuncturists (ASA), former Board Member of American Academy of Acupuncture and Oriental Medicine (AAAOM), and Past President of the American Chiropractic Association (ACA)-Sports Council work with us. 
Our mission is to wake up the planet and change the way we treat illness and health. This can happen only if more acupuncturists, chiropractors, naturopathic doctors, and functional medicine practitioners get the word out there.
Your patients need you.
The most passionate visionary and spiritual practitioners come to us to fast track their growth.
If you are ready to fast track your practice growth
(even during these times) and have a practice you're proud of….
Enter your name and email below for a FREE Double My Practice Revenue Strategy session…